Services
We can supply and install or install only all of the items listed and incorporate demarcation, lights, bollards, disabled logos, recessed manhole covers etc where required
BLOCK PAVING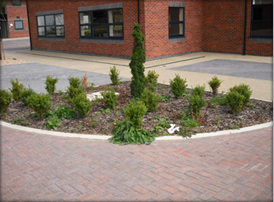 Traditional Block paving is sized 200 x 100mm and is available in 60 & 80mm thicknesses for commercial application and 50mm thick for domestic situations.
Blocks are laid onto a compacted sand bed which has been screeded to the required levels.
After laying the block paving to the desired pattern the perimeter blocks are cut to the edge using a guillotine paving cutter. Finally the blocks are covered in kiln dried jointing sand before compaction with a plate vibrator and a final sweep to fill the joints with sand.
There are many other sizes of blocks now on the market, often referred to as sett paving but typically the thickness remains at 50,60 or 80mm. All blocks are available in a variety of surface finishes and colours.

PERMEABLE BLOCK PAVING
Much like traditional block & sett paving in appearance the installation method is different. Permeable paving is laid on a bed of fine angular stones onto a sub-base formed with fines stones. Surface water permeates through the paving into the sub-base before either eventually filtrating into the ground, watercourse, water harvesting tank or main drains. Interlock Paving have been laying these products since they came onto the market and are an approved installer of Hanson Formpave's permeable paving, the company that founded the system in the UK.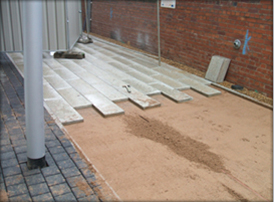 SLAB PAVING
Usually made from pre-cast concrete slab paving is available in numerous sizes from 300 x 300 to 600 x 900.
Varying thickness are available but typically 50 or 60mm thick is used in commercial applications and 38mm thick in domestic situations.
The slabs are usually laid on either sand or sand/cement bed haunch which has been screeded to the desired levels.
After laying the slabs to the desired pattern the perimeter units are cut to the edge using a disc saw. Finally the slabs are compacted with either a rubber maul or a plate compactor and kiln dried sand is swept into the joints.
In certain situations it may be appropriate to fill the joints with a sand / cement mortar mix.
Slab paving is available in a variety of surface finishes according to budget or aesthetic requirements.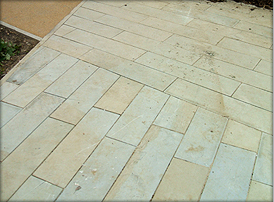 NATURAL STONE PAVING
As the name suggests natural stone is quarried from the ground and its colour is determined by its location.
Typically sandstone is the most common which is available from sources both in the UK and abroad.
As a natural product the sizes available are almost limitless, up to approximately 900mm long lengths.
The most common size used in commercial applications today would be a 450mm wide slab, 50mm thick which is supplied in various lengths to provide a random pattern.
Much like pre-cast concrete slabs it can be laid on either a sand or sand / cement mortar bed and with joints filled with either sand or mortar.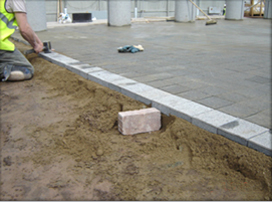 GRANITE PAVING
A natural product quarried globally, its colour and texture will vary depending upon the source and its desired application.
Sizes are almost limitless from granite sett paving cut to 50 x 50mm dimensions to large wall kerb or step units which can be 1000 x 1000mm or even larger on plan.
A more exclusive product than pre-cast concrete, granite paving is typically used on high end projects where a visual quality appearance is the first priority.
Interlock Paving have extensive experience with this product in its varying format sizes, textures and applications.
KERBS
Typically made from pre cast concrete although sometimes natural stone or granite.
Kerbs are used to restrain the edges of block or slab paving.
Usually laid on a concrete bed and available in numerous sizes, colours and finishes to suit the application.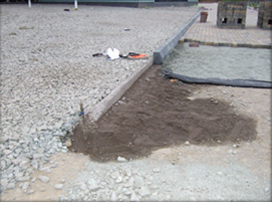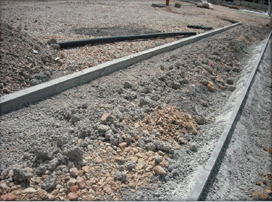 STEPS
Steps in both commercial and domestic applications are often formed with various paving types.
From a simple paving slab tread with brick risers to large granite steps or purpose made made pre-cast step units which can be individually manufactured to suit any requirement.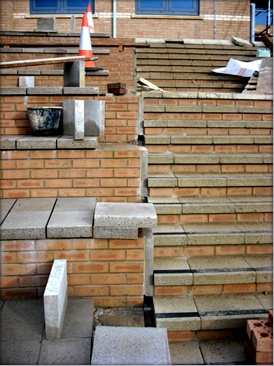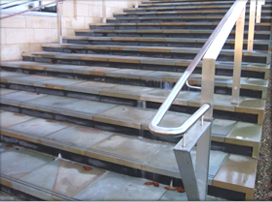 SLABS TO FLAT ROOFS
Often in commercial situations a paved surface is required to flat roofs.
Typically these are laid with open joints to allow water flow.
Instead of a typical sand bed the slabs are laid on plastic spacers which are adjusted to suit surface level variations.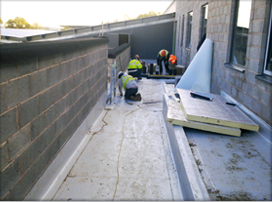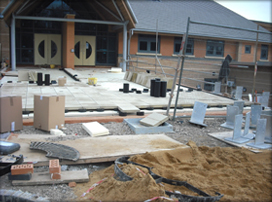 GRASSCRETE
Sometimes referred to as grass blocks these are open celled paving units manufactured from either plastic or concrete.
Like other types of paving they are laid onto a screed bed. This can be simply sharp sand or a sand/soil mix.
After the perimeter cutting is complete they are typically filled with top soil and seeded. This provides a paved surface which gives the appearance of grass.
An alternative to soil and sanding is to fill the units with gravel.